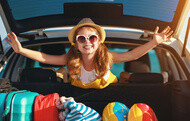 Get ready for a road trip (checklist)
The holidays are approaching and you're about to go on a road trip? Michelin gives you some advice in the form of a non-exhaustive checklist to help you leave with peace of mind and avoid unpleasant surprises on the road.
Check your tyres before your road trip
These four rubber spheres will carry your car, your luggage, you and your passengers for kilometres and sometimes at high speeds. That's why it's essential to check these points before a long journey:
1 - Season and weather conditions
Depending on the season and the weather conditions of your itinerary and destination, make sure that the tyres fitted to your vehicle are adapted.
For example, in winter, make sure your tyres are 3PMSF, whether they are all-season or winter tyres.
2 - Wear
Check the wear level of your tyres. Make sure that the wear is not uneven or too pronounced before you set off for many kilometres. This is an essential safety measure for you and your passengers. A professional will be able to tell you if one or more of your tyres are too worn for your journey.
3 - Pressure
Check the pressure of the tyres (all four and the spare) to ensure optimum safety, to preserve the durability of the tyres and to avoid using more fuel than necessary. Remember that the recommended pressure may be different when the vehicle is loaded.
Check your vehicle before your road trip
In addition to tyres, the vehicle itself needs regular checks, especially before a long journey. We recommend that you check:
The oil level
The brake fluid
The brake pads
The cooling fluid
The windscreen washer fluid
The correct functioning of the windscreen wipers
The correct functioning of the lights
 
If you don't know how or don't want to do it yourself, take your car to a professional to have it checked.
For long journeys, take spare fluids with you (oil, windscreen washer fluid, cooling fluid).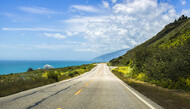 Check your vehicle's equipment
Make sure your vehicle is equipped with these items:
A triangle*
A safety waistcoat*
A jack and a spanner to change the wheel in case of a puncture
A fire extinguisher
 
*This is a legal obligation. In some countries, a waistcoat is compulsory for each passenger: check the local regulations.
Other useful equipment:
A blanket
A first aid kit
A flashlight
A pair of gloves
 
And for the winter :
To ensure that your journey is as smooth as possible, find out about the expected traffic conditions along your route. Traffic jams can sometimes be expected, especially at the beginning of school holidays. You can then decide whether it is advisable to plan an alternative route.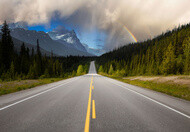 Another important piece of information to take into account is the weather. Is it going to rain, snow or hail, or are you going to ride under a cloudless sky? Make sure you find out before you leave.
Finally, the big day has arrived and you are about to take the wheel for your road trip. But before that, you need to load all your luggage.
Depending on the length of your journey and your stay at your destination, the amount of luggage can be more or less important.
We recommend that you spread your luggage over the entire vehicle and avoid placing objects on the rear parcel shelf. They could obstruct the view from your central rear-view mirror. In addition, in the event of an impact or accident, they could be dangerous projectiles for the passengers.
If you have a lot of luggage, you may have chosen to use a roof box or a trailer. You may even have chosen a bicycle rack to carry one or more bicycles for your trip. In this case, follow the manufacturer's instructions and comply with the regulations.
Set the GPS for the road trip
If you are using a GPS to set your route, enter your destination before you start driving. And if the GPS is on a mobile device, make sure that the device is properly fixed in a place where it does not interfere with your driving.
Here are two important precautions for passengers:
Front and rear passengers should have seat belts*
They should not obstruct the driver's view
If you have small children, use child seats approved for the size of your child*: refer to the regulations for this kind of equipment.
 
*This is a legal obligation
Before and during the journey, we recommend that the driver takes the following precautions, for his or her own safety and of course that of the passengers:
Get sufficient rest before driving. Prefer an early start, after a good night's sleep, to a late start after a day's work
Do not drink alcohol before or during the trip*
Take regular breaks, at least every two hours.
 
*Drinking and driving is a legal offense.
Do you need to have your tyres and vehicle checked by a professional?