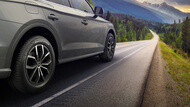 If you're part of the growing community of SUV users, you may be wondering how to choose the best tyres for SUV. In this article, after clarifying the sometimes confusing distinction between SUVs and 4x4s, we help you choose the most suitable tyres for your use.
The difference between SUVs and 4x4 vehicles
By definition, a 4x4 is an off-road vehicle. Its four-wheel drive allows it to drive on difficult terrain that passenger cars would find difficult or impossible to drive on. 4x4s, for example, are driven in rallies. They are equipped with tyres which are specially designed for driving on rough and difficult terrain.
In contrast, an SUV is a vehicle that is generally intended for the road. Most SUVs have only two-wheel drive, like conventional passenger cars, but not always as we shall see later.
In common language, there is a tendency to confuse the term 4x4 with SUV. However, it is important to distinguish between the two, as the tyres for each are different. A 4x4 can be fitted with off-road or mixed tyres, whereas an SUV is more likely to be fitted with tyres for road use.
In this article we will focus on SUV tyres.
How to choose your SUV tyres?
Michelin has developed ranges for sizes that fit SUVs. And to find out which Michelin SUV tyres will be best for your use, here is the simple question you should ask yourself:
Are you exposed to frequent and regular snow conditions and low temperatures in winter?


Depending on your answer, we will guide you to the most suitable tyres.
1- If your answer is YES
We recommend alternating winter and summer SUV tyres:
SUV tyres for winter
Opt for 3PMSF certified SUV tyres, designed for harsh winter conditions. For this purpose, our MICHELIN Pilot Alpin 5 SUV or MICHELIN Alpin 6 are ideal choices. If you live in a country with very severe winters, then opt for the MICHELIN X Ice Snow SUV or the MICHELIN X Ice North SUV (studded tyres).
SUV tyres for summer
When the weather gets milder, you can replace your winter tyres with summer tyres. The MICHELIN Primacy 4+ is a perfect SUV tyre if you want to focus on safety and good braking in the wet. Otherwise, consider the MICHELIN Pilot Sport 4 SUV, if you want to focus on a sporty driving experience with good grip.
2- If your answer is NO
If you are in an area with occasional cold temperatures and little snowfall, then you should use all-season SUV tyres and keep the same tyres all year round.
All-season SUV tyres
Depending on the size of your tyres, you can choose between our all-season range: MICHELIN CrossClimate 2 and MICHELIN CrossClimate 2 SUV.
Both are SUV-compatible and certified with the 3PMSF label, which means that they have been successfully tested on cold and snowy ground at temperatures below 7°. They also offer excellent performance on dry and wet roads in summer, which makes them ideal candidates for your SUV all year round. (For more info, read our article on all-season tyres for SUV).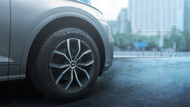 Tyres for 4-wheel drive SUVs
For most SUVs that can take advantage of it, four-wheel drive is often offered as an option, and few consumers take it. In contrast, four-wheel drive is much more common on large SUVs and premium SUVs.
In other words, while SUVs may claim to have a rugged aesthetic, they are not necessarily equipped with an inter-deck differential lock or a short off-road gearbox. While they retain the ride height and rugged appearance of a 4x4, many have only two-wheel drive and have given up some of their off-road ability for better handling.
If your SUV has 4 wheel drive, you can follow the same selection criteria but MICHELIN strongly advises you to equip it with 4 identical tyres, i.e. of the same make and model, size and level of wear.
Do you have to change all 4 tyres on your 4-wheel drive SUV?
For optimum performance, we recommend changing all four tyres at the same time if your SUV is a four-wheel drive vehicle.
If your SUV has only two wheel drive, you do not need to change all four tyres at the same time. But it is recommended that you do it in pairs, i.e. the two tyres that are on the same axle.
How to choose your SUV tyres in seconds
To make it easier for you to choose, the diagram below will give you a very precise and quick idea of the most suitable tyres for your SUV: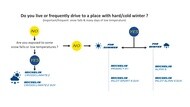 Now that you have a clearer idea of the best tyres for your SUV, click below to find out more.