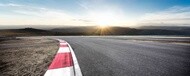 Track days 2023: Michelin & circuit driving, an undying passion
Are you an occasional racer or a die-hard enthusiast? Michelin is by your side during your track days, helping you indulge your passion for the track with tyres that combine safety and performance. A great day of fun!
Track days, what are they?
They're circuit days on a dedicated track, organized by a club or track enthusiasts. Come with your favorite car and test your Michelin tyres during these track days. Very often on this day, a unique experience is offered: driving advice, getting prepared for driving on track, recommended tyre pressure and a thrilling driving experience. You are always accompanied by a professional.
Committed at the highest level
Michelin is a long-standing player in automotive and motorcycle racing, where tyres play a key role, with a commitment at the highest level for over 40 years. This is why the involvement in track days was important for the brand. Whether in MotoGPTM, at the Le Mans 24 Hours or in WEC, Michelin equips the highest performance vehicles and the most talented drivers and riders. Michelin's track record and achievements are proof of its unwavering commitment, as is the quality of its technological innovations in the world of motorsport. Thanks to the trust placed by outstanding racers in Michelin and its technical crew, Michelin constantly enriches its experience and places it at the service of all motor racing enthusiasts.
To enjoy track days, the greatest sensations and achieve the best times in absolute safety, Michelin has developed several ranges of high- performance tyres. These are suitable for all types of vehicles, cars and motorcycles, for both road or track use.
For 2 wheels:
For motorcyclists, the MICHELIN Power range is available for all bike categories, and all uses. The MICHELIN Power GP is a multifunction tyre that provides optimal handling on both road and track. If you need a tyre that's specifically designed for the track but is also street-legal, then MICHELIN Power Cup 2 is the way to go. The 100% track version of the MICHELIN Power Slick² will provide you with maximum grip and constant performance for your track days. And for the most demanding drivers, the MICHELIN Power Performance deliver race-winning pace lap after lap.

For 4 wheels :
Drawing on the extensive experience gained at the highest levels of motorsport, Michelin developed the MICHELIN Pilot Sport range, which offers long-lasting performance on both road and track. You mostly drive on roads but sometimes on circuits thanks to circuit days? Then you'll appreciate the MICHELIN Pilot Sport 4 S tyre and its superior control and stability. Drivers wanting to blend speed, lap-time consistency and dry track endurance will choose MICHELIN Pilot Sport Cup 2, a semi-slick street-legal tyre. Finally, for those looking to smash lap times, the MICHELIN Pilot Sport Cup 2 R tyre is the right choice. Thanks to its extreme lateral dry grip and excellent driving precision (1), it provides that extra edge that makes all the difference.

See you on track days 2023 to test the Michelin tyre that's best for you and your vehicle!
Prepare well your track days
What reflexes should you adopt to make the most of your track days in absolute safety? Check tyre wear, as certain driving conditions, adjust cold tyre pressures, confirm target hot tyre pressure, verify the state of the rims, the presence of valve caps... Every racing session should start with this ritual on circuit days. Ready for a lap record during the track days 2023?
All our motorbike tips & advice
And our car tips & advice
MICHELIN tyres are all designed so that grip performance is maintained at a very high level until the end of the tyre's life. 
(1) – lap time – in-house study carried out by Michelin at Nardo in January 2018 on a PORSCHE 911 GT2 RS with 265/35-20 tyres on the front axle and 325/30-21 on the rear axle, with a measured difference of -2,9 sec per lap compared to MICHELIN PILOT SPORT CUP 2 tyres. The total lenght of the circuit is 6,277m.